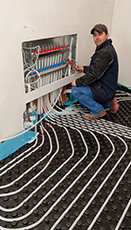 RG Fort & Sons are the plumbing and heating experts on Long Island and we can assist homeowners with all heating services for their Long Island home. We are a fully licensed and insured plumbing and heating business and a proud member of the Better Business Bureau.
For reliable heating services on Long Island, contact RG Fort & Sons. We are experts at heating repairs or installations in your Long Island home. If your boiler is in need of repair, schedule an appointment and we can service it for you. If your boiler is old and beyond repair, we are the heat experts that can install a completely new boiler in your Long Island home.
Many customers on Long Island are considering making the switch from oil heating to gas heat in their Long Island homes. Many homeowners make this smart choice because natural gas is so much more efficient and cost-effective than oil heat. If you are considering converting your home from oil heat to gas heat, contact the Long Island heating technicians at RG Fort & Sons. We have years of experience performing gas conversions on Long Island and we can convert the heating system in your home to a low maintenance and environmentally friendly heating system. If your current gas heating system is not working efficiently, we can also replace your existing gas heating equipment with a modern and more efficient gas heat system.
Another option for Long Island homeowners is a radiant heating system. Radiant heating is an effective and efficient method of heating. Radiant heating does not blow hot air through vents or baseboards, it runs hot water under the floors and radiant heat warms up the entire floor and room. A radiant heating system is an efficient and affordable way to heat your home. RG Fort & Sons is a Long Island residential heating company that has designed and installed numerous radiant heating systems in homes on Long Island. We can install a radiant floor heat system in any home or Long Island location.
For the most experienced heating and plumbing services on Long Island, contact We offer many types of heating services and systems for Long Island customers including radiant heat design and installation services, boiler installation services, water heater repair and installation, faucet repair and replacement, generator installation services and more. When you experiencing heat problems or you are in need of heating services for your Long Island home, call RG Fort & Sons.
If you are renovating your Long Island home, we can also handle any bathroom and kitchen renovations as well as heating installations. Call RG Fort & Sons today at 516-924-9914. We have experienced plumbers and technicians on staff that can handle any of your Long Island heating repairs or installations. We offer high quality service and reasonable prices on all the jobs that we perform. We have built a great reputation as a trusted and reliable company on Long Island because of the excellent service and quality work that we provide. Get in touch with us today for any heating issues at your Long Island home.